News Releases
Report from Advanced Automotive Battery Congress
Jun 2008
Takuya Miyazaki
Overseas Sales Dept.
On behalf of PRIMIX, I participated in the 8th International Advanced Automotive Battery and Ultracapacitor Conference in Tampa, Florida (US) from May 12 to May 16th.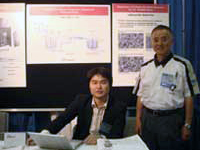 People from many companies and research institutions involved in research, development and manufacturing of batteries (mostly self-charging large automotive batteries) and capacitors came to this 8th conference to attend a wide variety of symposiums.
Even though the conference is held in the US, there was a surprising number of people from Japan as well as other countries in Asia and Europe, giving it a true international atmosphere.
This year was the first year for PRIMIX to exhibit. In a hall adjacent to the large main meeting room that holds about 1000 people, we exhibited the T.K. Filmics which is becoming known as the new standard in mixing equipment compared to conventional mixers used in the manufacture of electrode slurry. We were pleased to have many inquires about the machine including people who are currently using it to those who thought it might be a machine to make ice cream.In any case, there seemed to be a significant amount of interest among those who visited the booth.
I also heard from attendees at the conference that PRIMIX was the first company to exhibit equipment used in the battery manufacturing process. Despite being the first, we will not stop there. We plan to exhibit in the coming subsequent years and beyond to build a presence in Japan and overseas by creating the awareness of Filmics as the mixer used for dispersion of electrode slurry in the manufacture of batteries.
I would like to take this opportunity to thank the strong local support from coordinators, Kent and Tracy.
HOME > What's New > News Releases > Details