News Releases
Report from Advanced Automotive Battery Congress 2009
July 2009
Takuya Miyazaki
Overseas Sales Dept.
PRIMIX exhibited at The 9th International Advanced Automotive Battery & Ultracapacitor Conference & Symposia 2009iAABCjheld from June 8 to June 12 in Long Beach, California.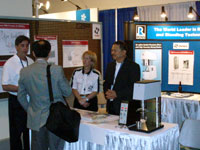 The AABC is an exhibition and symposium that attracts companies and research institutes from around the world where they gather to address manufacturing, research and development in lithium ion batteries (particularly large batteries to drive vehicles). This year was the second year in a row that PRIMIX has exhibited in space next to the main symposium hall. This year, we were excited to have the brand new Filmix 40-40 model on display. The exhibition gave us an ideal opportunity to discuss with participants the new and innovative continuous dispersion mixing method with the high-speed, thin-film disperser, Fimix, as the central unit.
Some participants showed interest and even mentioned that they remember us exhibiting last year as well. There were approximately 50 companies that had exhibits with PRIMIX and Ross being the only two that were specifically related to dispersion of battery slurries. Likewise PRIMIX is becoming known that the dispersion equipment manufacturer for battery slurries and Fimix. AABC has been an effective means in allowing us to build our presence around the world in the battery and related industries outside of Japan.
I would like to thank all PRIMIX employees who provided key assistance in preparations for the exhibit and to Charles Ross and Son who jointly exhibited with us, giving essentially support especially at the location.
*CDM Process: Continuous Dispersion Mixing Process
HOME > What's New > News Releases > Details