News Releases
New Year Greetings
January 2015
Hisashi Furuichi
President and C.E.O.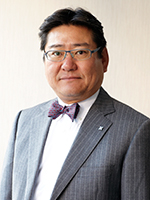 I would like to wish you all a Happy New Year. Thank you very much for your cooperation in making 2014 a good year. We look forward to working with you and serving you in 2015.

In April, PRIMIX will be marking its 88th year since establishment. This coming year will be remembered as a significant one in our history. We will commemorate our 88th year by relocating our headquarters and manufacturing facilities in August to Yumebutai in Awaji City. Although the purpose is to improve the current facilities that have become small and obsolete, I will strive for the greater happiness and welfare of employees by giving them more lifestyle options to work hard, play hard, and rest well.

The Awaji Island relocation plan began in the year 2008. We considered many sites in and around the Kansai area, specifically Osaka, Nara, Mie, and Hyogo, but settled on Awaji Island for its natural environment and ease of accessibility. However, the proposed site overlooking the Osaka Bay area was initially owned by the city of Awaji, which had no plans to sell it. After spending 4 years persuading the city, we are at last able to go through with our plan. In the mid-term business plan, MOVE, set forth in 2012, we have worked hard to improve the quality of our management activities with this year's relocation in mind. The new facilities will increase production efficiency, and we will work hard to enhance reliability and further improve customer satisfaction. We are looking forward to continuing to serve you in 2015 and beyond.
HOME > What's New > News Releases > Details