News Releases
Our Move to the Institute of Electrode Manufacturing Technology Research
July 2016
PRIMIX Corporation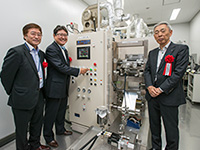 PRIMIX is pleased to announce that we recently introduced a new coating machine into the new Institute of Electrode Manufacturing Technology Research at PRIMIX headquarters on Awaji Island. The Opening Ceremony for the Institute was on July 26.

With the addition of a coating machine, we can simulate the manufacturing process from the electrode slurry up to the coating process, allowing for continuous and more robust testing. Our research team will also be able to determine the optimal dispersion and coating conditions much more quickly, further decreasing the development time of batteries and new battery materials. The Institute of Electrode Manufacturing Technology represents our commitment to finding solutions in electrode manufacturing, and to improving research and technology in the field. The intent is to share this information worldwide.

* Institute of Electrode Manufacturing Technology Research
The Institute is a consortium of the National Institute of Advanced Industrial Science and Technology (AIST), Yamagata University and PRIMIX. The Institute opened in September of 2015 to promote cooperation between industry, university and government toward the advancement of technology, concentrating primarily on the next generation of battery materials.
HOME > What's New > News Releases > Details