News Releases
New Year Greetings
January 2018
Hisashi Furuichi
President and C.E.O.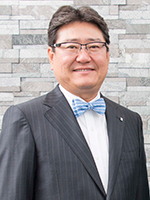 Happy New Year. Thank you very much for your patronage and cooperation in making last year another good one for PRIMIX Corporation. This year marks my third year celebrating the New Year at Awaji Island. I have become quite accustomed to life on the island and have come to appreciate the many benefits of living here. In fact, I purchased a road bike last year and have enjoyed riding it when I have the time. At PRIMIX, we also set up a bike club called Scuderia PRIMIX Racing, which has been a key part of my losing 5 kg. It has been so refreshing and fun to ride along the shoreline, especially on bright, sunny days. Thanks to so many people and their efforts, this year has been a busy one for PRIMIX. Despite a small drop in exports compared to last year, we saw an increase in sales activity with domestic pharmaceutical and cosmetic companies, which has kept our manufacturing facilities operating at full capacity. Our transition to some new systems have caused some issues with our customers, a situation which we are working hard to learn from and address. One of the countermeasures we have implemented is to enhance employee training at PRIMIX University, do a complete review of all business processes of the DRIVE program in the technology department, and are working on activities to improve productivity through FL methodology (Management of Flow and Location of Product which is a Toyota Productions System concept applicable to small and medium size operations). We expect that these efforts will bear fruit in the near future, and begin contributing to better satisfaction among our customers and stakeholders.

Also this year, France and Britian made significant world news with their announcements that by 2040, they intend on completely eliminating vehicles that run on gasoline and diesel fuel. Automakers around the world are taking notice, and this trend is expected to continue and gain momentum. Since we developed the FILMIX, which is uniquely designed for and used in the electrode slurry manufacturing process for lithium ion batteries, we have seen steady growth that is expected to continue, yet we can also expect greater pressure as competing companies begin to enter this market. We will continue to concentrate our efforts and activities in PEACE (Process Engineering Achieveing Clean Energy) Division toward building trust in our brand in the rechargable battery industry.

Thank you again on behalf of the team at PRIMIX and we look forward to working and collaborating with you in 2018.
HOME > What's New > News Releases > Details