News Releases
New Year Greetings
January 2022
Jun Kawasaki
President and CEO
Happy New Year to you all. I look forward to working with you again this year.
Looking back at 2021, it was another year of being pushed around by the Corona virus. The constant threat has been exhausting, causing us to have to change our lives and our daily activities, and creating a lot of unease. However, 2021 was not without its bright spots—the Tokyo Olympics—and a new normal where industry can thrive despite the virus. PRIMIX too is recovering to pre-Corona virus levels as our customers ramp up their investments that were put on hold during the worst of the pandemic. Our current efforts are concentrated on fulfilling orders and achieving performance targets. For this, the efforts of each and every employee are indispensable. I look forward to your support in achieving those goals.
Given the conditions, one might still be in the New Year's mood and not motivated, but this will help. Instead of thinking what you can't do, think of what you can do—then go for it. In his book, Dr. Ikegaya also says, "Motivation comes from the body. Sometimes half the battle is to just make a start."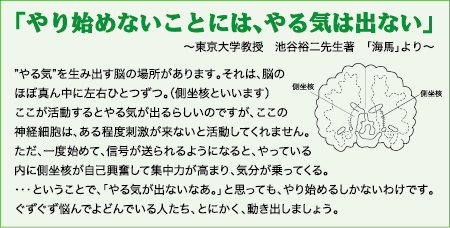 HOME > What's New > News Releases > Details