Today's Notables
MIT Visit Report (Part 1)
March 2003
Hisashi Furuichi
President and C.E.O.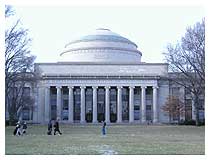 As I mentioned in the last issue of Shinko, Mr. Asa and myself visited Massachusetts Institute of Technology to kick off the joint research project. MIT is located in one of the most historical cities of the United States, Boston. Boston is also known for being difficult to navigate because of its geography and history. But, to make matters worse, the city has taken on a huge project to put major freeways underground and parks in their places above. The project is call the Big Dig and was started in 1993. It originally was supposed to be completed in 2001 but because of problems and budget issues, is now slated for completion in 2005. Bostonians say that the Big Dig will never be done. Maps are rendered useless because even though a map may show a road exists, it might be closed or rerouted somehow. Getting to a destination is no small feat. Road signs are not very obvious either. This is not necessarily because of construction but because Bostonians just assume that everyone knows. The construction also contributes to traffic jams making traffic worse than a crowded street in Tokyo. If you can get through the traffic, you only have to contend with the Charles River that runs through the city. The river is lined with abundant trees and 3-level brownstones characteristic of New England. It truly is a nice city.

The MIT campus faces the Charles River and is about 500 meters in width and 2 km in length, which houses most of its buildings and living quarters. Because regular roads go through the campus, it is hard to tell what is part of MIT and what is not. We stayed at the Marriott Hotel adjacent to campus but really had the feeling of being on campus.

Dr. Dalzell came to our lobby at 9:30am. Naturally, the two of us being Japanese, he knew who we were immediately and said "konnichiwa". He is middle-aged, tall with a pleasant demeanor. After we introduced ourselves, he led us to the building, which housed his research lab. We walked about 5 minutes from the hotel to the Ralph Landau Building and went to the basement. It was a state-of-the-art facility set up only 1 and 1/2 prior. Throughout the room, there were movable units in a room divided into 6 sections about 5m by 4m. The units were completely equipped with power, water hookup, gas, etc, to make them fully functional for the lab's needs. Naturally, all the other tools and materials for a chemical engineer were at hand. The lab is also connected to the university wide LAN.
HOME > What's New > Today's Notables > Details