Today's Notables
The yearly employee meeting
February 2005
Hisashi Furuichi
President and C.E.O.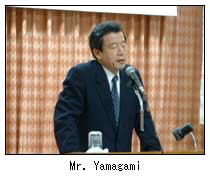 We decided to change the scheme of the yearly employee meeting. After an explanation of the previous period's results and a discuss about the strategy for the current period, I asked a few outside experts to address the group. One person, Mr. Yamagami, has provided legal counsel for TK for many years. Mr. Yamagami was the first attorney in Japan to establish a private practice. He is well-known in the Kansai area and has a reputation for being expert at Kyoto University Graduate School. An increasing number of transactions with manufacturers of electronic equipment and handling more material with greater complexity has resulted in a greater number of confidentiality agreements that Mr. Yamagami has put into force. From this perspective Mr. Yamagami discussed "Crisis Management." Because Mr. Yamagami is very familiar with TK products and our business model, he was able to relate TK's position to judicial precedent to make his discussion very relevant and easy to understand.
I also asked Taeko Tsuda of Three Mind Kyoiku Center Company. In April of last year, Ms. Tsuda spoke at a meeting of a Tokyo organization I belong to. I was thoroughly impressed with her powerful and enthralling discussion and decided to ask her to come to Osaka from Tokyo. I know it is impolite to ask a woman's age but out of curiosity I found out she is 57 and was a full-time housewife until age 40. She diligently made her son's lunchbox everyday and one day when he was in high school, he blatantly told her to leave him alone. She realized that he was an adult and it was time for her to find something besides housekeeping to do to fulfill a purpose. She first attended a class to improve speaking ability and after that, worked for a volunteer helpline and soon recognized some similar patterns among people who were having difficulties and sought consultation. She knew if she continued in that position, it would cause a change in her. This spurred her to establish an educational institute, Three Mind Kyoiku Center. In this meeting, her talk was titled "The ambition to change yourself and your company," which was very engaging especially to all TK employees. It is hard to imagine such powerful enthusiasm from such a person.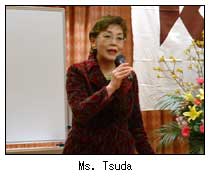 The "Three Minds" that Ms. Tsuda proposes is "affirmation of the self," "kindness to others" and "optimistic toward the future." She says that we must not think negatively about ourselves and that "I am OK" or "I can do it" is an important form of self affirmation. Then we can have a positive outlook. She says it is important to take the attitude that instead of smiling from something good, we cause something good by smiling. She also poses the question: "What is a pro?" and responds with "Isn't a pro someone who is popular?" Whether it is interpersonal relations at the company or anything else, the important thing is popularity. Before people will come to like you, you must like others. With respect to optimism toward the future, one must have a positive attitude and make an effort without doubt. She says that taking the approach that no matter what happens, an attitude of "I'll try," "I can," and "I'll go for it," are very important. By implementing the "three minds," ambition, vitality, enthusiasm and conviviality will overcome sickness, depression, boredom, miasma and weakness. As a result, you can impress a customer as opposed to just satisfying them and achieve "customer delight" (CD) as opposed to "customer satisfaction," (CS). I hope you can always apply what she taught for a happy home and work life.
HOME > What's New > Today's Notables > Details