Today's Notables
Travel to Bangkok and Phuket
February 2006
Hisashi Furuichi
President and C.E.O.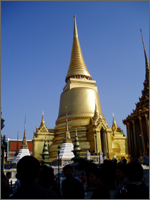 This year, I had the opportunity to take a leisurely holiday break at the end of the year for a trip to Bangkok for one day and 6 days in Phuket. We visited my Japanese roommate, Takaaki Takeuchi from my days at Michigan State University who also happens to be a major shareholder and auditor of FEAST established in 1995. He has been living in Thailand for 11 years and invited us to stay at his timeshare resort at the Marriott. It sounded too good to pass up. Mr. Takeuchi is director of TAKEUCHI PRESS INDUSTRIES CO., LTD. headquartered in Toyama. Takeuchi Press bought Alcon Public Co., Ltd., a similar business in Thailand and since then, Mr. Takeuchi has served as president of that company. We share many of the same business contacts and many times, materials manufactured using our mixers are packaged in Takeuchi Press or Alcon products. Whenever we get together, we talk about everything from those days in Michigan to what we are doing now and always have a great time. The last time I went to Thailand in 1997, I went with a Thai cuisine food coordinator, Chef Ishinabe, and Chef Sakai on a gourmet tour. Since much of my travel is to Shanghai, it is interesting to look at other places in comparison.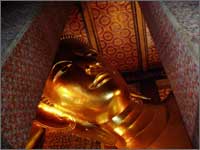 At the end of last year, Japan was unseasonably cold and with a lot of snow but in contrast, Bangkok was a balmy 35°C. October to February is the dry, cool season so it rained very little during our stay and was very comfortable-perhaps the best time of the year. We left from Kansai airport to Bangkok which is a 6 hour flight-not too far for an easy trip from Japan. Mr. Takeuchi met us at the airport and his driver (It's not unusual for foreign owned companies to have local people as drivers) take us to the hotel in a new Toyota hybrid Alpha. After checking in late afternoon, we went to a restaurant called Vertigo in the Banyan Tree Hotel. You take an elevator to the 61st floor and walk upstairs to the roof where the dining area is overlooking the city of Bangkok. The name is very appropriate when you are out in the open air on a roof 61 floors up. The claim to fame is being the highest open air restaurant in the world-to which no argument can be made. The light breeze at sunset felt warm having come from the chill of Japan. We could look in any direction and see the city lights of Bangkok. With the weather in Thailand being what it is, such a concept is possible and what a concept it is.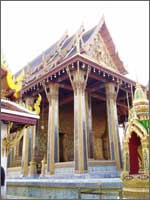 The following day Mr. Takeuchi arrived in the morning so we could take our children to see some historical sights. We visited the Grand Palace Wat Poh Kao and the Wat Poh where the famous Reclining Buddha is. Mr. Takeuchi warned us the previous day that sleeveless or short shirts and jeans were unacceptable and although our kids, dressed with those intentions in mind, the holes in my son's jeans were deemed unacceptable. Apparently, they run into this a lot so acceptable clothes were made available at the entrance. It was the second time I've seen Wat Poh Kao but for my family, seeing it for the first time, had an opportunity to see some history other than Japan. Besides being much more flamboyant than Japan and China, the actual construction is different than Japan. It is said that it is one of the two places in Thailand that you can get a Thai massage at the head temple. Unfortunately, we had plans to leave for Phuket later that afternoon and did not have enough time.
After that, we stopped by the famed Oriental Hotel, which has received numerous awards for having the best hospitality in the world, and had tea at an outdoor cafe along a canal before we headed to the airport to catch our flight to Phuket after stopping by the hotel. We meet Mr. Takeuchi's family at the airport and our group of 10 boarded for Phuket. Bangkok to Phuket is only an hour flight, about the same as Tokyo to Itami. I was under the impression that was a rather remote island but in reality is connected to mainland Thailand by a bridge and is not really so far from mainland. It really looks more like a peninsula on the map. We rode a jumbo jet from Bangkok to Phuket and landed in an airport that was at a similar scale. The area of the island is 543 km2, not too much smaller than Danro Island at 593km2. When we think of Phuket now, we probably remember the Tsunami in 2004 and the images of the Sumatra earthquake are still new. Compared to Patong Beach and Kalmala Beach, however, the area we stayed in was far enough away and did not suffer the same damage where the water was more shallow and easier to swim in.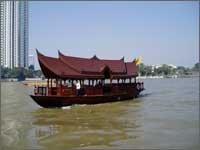 The JW Marriott Phuket Resort and Spa we stayed was 20 minutes north of the airport. Marriott developed the land about five years ago in this area that perhaps has not been as prosperous as the rest of the country. It is mostly just fields around the resort and the beach in front of the resort gets very deep, very fast making it somewhat dangerous for children to swim. Probably because Marriott is a relatively new company, there are only 52 similar resorts throughout the world. The rooms are designed for long stays for families and a selection of restaurants, a spa, tennis courts, and a kids' room. The resort also has perks for guests at a nearby golf course so there is something for everyone to do. The resort timeshare system is based on a 52 week year where members can purchase a week per year in any of the Marriott resorts. Therefore, they sell up to the number of rooms times 52 people. The member can then make a reservation for a week for use of the room free one year ahead of time at that resort or any of the other locations with a minimal management fee. For someone with the flexibility to take a week vacation every year, perhaps this is a good plan.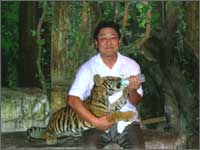 About 20 minutes from the Marriott, is Asia's number 1 ranked golf course, Blue Canyon Golf Club. It is a beautiful course that even Tiger Woods has played while on tour. Each golfer has their own caddy, who also carries the golf bag making someone feel like a pro.

Thai people lived up to their reputation of always smiling and being very hospitable. They also seem to like cleanliness so public areas were free of debris and garbage. Most people speak some level of English and so for us, there was very little inconvenience at all. What really helped me was the fact that hip neuralgia (my own diagnosis) which has caused me much pain in my hips and knees, seemed to lessen with the warm weather. I was worried that I would only be able to swing but actually my knees felt okay. If it hadn't been for a cold on the last day that caused me to spend three days in bed after returning home, the vacation couldn't have been better. By all means, Thailand is a place I would definitely like to return to.
HOME > What's New > Today's Notables > Details