Today's Notables
Anuga Food Tech
June 2006
Hisashi Furuichi
President and C.E.O.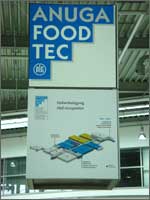 I recently participated in a tour overseas sponsored by the Japan Food Machinery Manufacturers Association. The tour took us to the Koeln Messe to attend the Anuga Food Tech.
It was my third time to visit Germany, the last being three years ago and still the economy condition is not so good. I also noticed that the autobahn, the most famous place in the world for being free of speed limits, was in need of maintenance. Moreover, the autobahn was toll-free at my last visit but now charges commercial vehicles with an N system license place using an automatic reader that charges the company. The cost of high octane gasoline was at 1.4 Euros for a liter which equals 200 yen to the liter. Sales tax is relatively cheaper at 16% compared to Sweden at 25%, Frances at 20.6%, Italy at 20% and Britain at 17.5%. From the point of view of Japan, this seems quite expensive especially at an exchange rate of 1 euro to 145 yen.
The local Germans say that since unification with former East Germany, the country has had to play catch-up and also owes some of it's woes to former Christian Democratic Chancellor Kohl for overspending. Unemployment has reached 14%--another indication of the sluggish economy.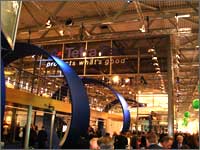 Koeln Messe, where the exhibition was held, has 11 exhibition halls; and hall 6 was used for this one. It has a total area of 100,000 square meters about double the East Hall of Tokyo Big Site. Anuga Food Tech is held once every three years. This year's exhibition hosted 1,178 companies of which 48% were foreign businesses. Sponsors of the exhibition also announced that 55% of the people attending were from abroad. In the European Union, however, people come and go across borders freely with no passport so there no sense of foreignness as there is in Japan. Two halls had mostly packing related equipment such as wrapping and filling machines with the rest devoted to food and beverage equipment.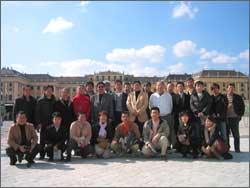 It seems like the exhibitions overseas are usually different than in Japan. It's not just a place to exhibit and explain products or services, it is used as a means of reaching out to customers, and expressing gratitude to those who have made contributions in some way. One example is a company that reserved an entire restaurant inside the exhibition hall as a hospitality suite for its customers. Smaller companies held hospitality suites following the event in the evening at nearby hotels.

Compared to the Anuga Food Tech exhibition of three years ago, there was nothing new in the way of innovative or especially interesting equipment. However, there is greater interest in contamination and traceability as shown by the emergence of equipment with special clean manufacturing capability and manufacturing conditions.
HOME > What's New > Today's Notables > Details