Today's Notables
The 8th Annual Shanghai International Automobile Anniversary Ceremony
July 2006
Hisashi Furuichi
President and C.E.O.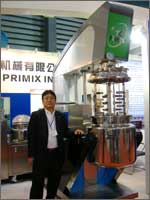 On May 18th, Shanghai TK Primix, Ltd., was established as Primix's wholly owned subsidiary and because of the timing, I went to Shanghai to also to attend the 8th Annual Shanghai International Automobile Anniversary Ceremony and the China International Cosmetics Exhibition (Beauty Business Fair in Shanghai) held at the Shanghai International Exhibition Center. More details about the exhibition will be forthcoming in next month's Notables by Mr. Uemura from the Accounting Department, so I will limit my discussion to the Shanghai visit.

The official name of the industrial park that TK Primix is located in is Anting Shanghai International Automobile City Spare Parts Assembly Industrial Zone-a very long name for an area devoted to the manufacture and assembly of mostly automobile parts. Up to now, I really hadn't thought much about it but in eight years, it is amazing to consider the facilities that have been built in just a short period of time. As I have mentioned in previous columns, the plant 5 star hotel, an F-1 race track, golf courses, and other facilities that are on par with similar facilities in the US and Europe, maybe even better in some instances.
The ceremony took place at such a golf course. The course itself and the club house were at least as gorgeous as some of Japan's best courses during the bubble economy era. The government's intent with the event was to provide a satisfying round of golf, followed by the ceremony and awards but with typhoon no. 1 in full swing, the rain made golf next to impossible. However, about 60 people started, shotgun, but we just didn't have the desire to play in such conditions and gave up after 6 holes. After being thoroughly soaked to the skin and cold, we enjoyed a sauna, hot bath and shower.

The only group that stuck it out through the weather was a group of Koreans who finished all 18 holes. Despite our lack of perseverance with the weather, Mr. Uemura managed to come away with the closest-to-the-pin prize and a very nice putter. Either he was really lucky, very good or happened to be in the right frame of mind to hit it just right, we will never know.

Although the lousy weather prevented us from enjoying a good round of golf, we enjoyed long conversations with many Anting officials which was their ultimate purpose of the event.
HOME > What's New > Today's Notables > Details