Today's Notables
Kansai Productivity Center, Domestic Conference Part 1
April 2008
Hisashi Furuichi
President and C.E.O.
In mid-February, I had the opportunity to visit Okinawa for the Kansai Productivity Center for Medium-size Company Executive Forum. This was to be only my second visit to Okinawa and since Tokyo and Osaka had been freezing this winter, I thought the timing was impeccable. The day before I was to leave, however, I saw people on TV being interviewed about some trouble caused by a US serviceman and they were all dressed in coats and scarves. I suddenly became a bit uneasy.

The temperature at Naha the day I arrived was 11.4 degrees, the coldest it had been this winter and the business associates that met me seemed almost apologetic as they greeted me. I must say that I was a little disappointed to have made the journey all the way to Okinawa expecting a little warmer weather. I will definitely remember the record low temperatures. The average temperature for February is around 14-15 degrees Celsius with lots of clouds and rain but on this particular day, it was mostly clear. I was told I was lucky to get this good weather.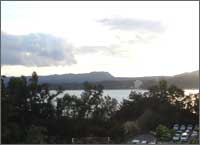 I am not sure whether it is because the warm temperature all year round makes Okinawa an easy place to live or because the rest of Japan seems to be losing population, but the environment is quite different. Compared to other prefectures, Okinawa is no. 1 in several areas. In particular with regard to population, Okinawa has the highest population growth because of birth rate, giving it the highest ratio of youth in the country. Population growth for the rest of the country is an average of 0.01% compared to 0.54% for Okinawa. The birth rate for the other areas of Japan is 8.4% while Okinawa is 11.9%. The population of 0-14 year old youths accounts for 18.35% of the overall population. When it comes to labor, the unemployment rate is 7.7%, ahead of Aomori and Osaka at 5.7%. It is also, as expected, home to Japan's largest US military base which takes up 10.41% of the total area of the islands. This is a significant difference from the 1.15% of the area of Shizuoka which is home to the second largest military base.

As this data suggests, despite a weak employment situation, people do not seem to move to other parts of Japan perhaps because of the climate; therefore, the population has had a tendency to increase. As a result, government, prefecture and business are eagerly working toward putting countermeasures in place to address the surplus of labor.
HOME > What's New > Today's Notables > Details