Today's Notables
F-1 Grand Prix in Shanghai
February 2009
Hisashi Furuichi
President and C.E.O.
It's already been four years since I first reported on the Shanghai Grand Prix back in the 2005 December version of Today's Notables. I have attended 4 F-1 Grand Prix races since then but it seems like only yesterday. One year before that, PRIMIX Shanghai was established for a total of five years ago. Since then, T.K. changed the company name to PRIMIX and the "T.K." was dropped from Shanghai branch to become PRIMIX Shanghai, Inc. The office we had at the time was very small so we built a new office building, which now houses a customer testing lab as well as rooms for accommodations in a building of third floors. In October of last year, we also finished construction of Plant No. 2 where many large-size machines are assembled.

Personally, I became enthusiast of F-1 race since I saw F-1 in 1974 and 1975 at Fuji Speedway. It is totally different compare to watch it on TV. Because you don't get to enjoy the exhaust note and smell of burnt oil if you see on TV. So when I get an opportunity, I like to go and see it live at the raceway. Of all the motorcycle and automobile races that there are in the world, F-1 is by far the most gorgeous and each hosting country adds its own uniqueness. Although I like to watch the races even on TV throughout the year, it's much more entertaining to be there in person. Last year Fuji Speedway hosted the Japan Grand Prix for the first time in 33 years so I also had an opportunity to go see that race as well. Since Toyota was competing this time, they purchased Fuji Speedway and rebuilt it. I could hardly wait to see it but unfortunately, it rained the entire day and to top it all off, the traffic coming home was terrible. In fact, it took 4 hours to just get out of the parking lot. Starting in 2009, F-1 will be held every other year there, alternating with Suzuka. But without Honda's participation in F-1, I wonder what direction it will take.

You may wonder why I have such emotions about this race before I even begin discussing the Shanghai Grand Prix. One reason is that the schedule for Shanghai Grand Prix was changed this year and it so happens that the date conflicts with the PRIMIX Anniversary Party. I will not be able to go and see Shanghai F-1, ruining my record of perfect attendance for 4 years. A simple response might be to just go and see the Japan Grand Prix instead but the Shanghai race is much more accessible. The location is perfect because both coming and going, I can get back to our office in 10 minutes. Although I have yet to see a race anywhere other than in Japan and China, it's a lot easier to sit back and relax in China.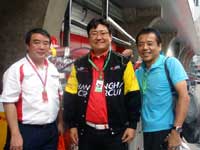 Last year on Sunday, October 19th, one very important race in the Series Champion was to be held. The year before that, I went to see the race with Mr. Yusa from R&K Partners who we commissioned to design and build the office. After we returned to the hotel and were talking, he mentioned that he went to school with Hamashima at Bridgestone. Upon further discussion, I found out that they still stayed in contact. At that time, I asked him to tell Hamashima that we were in Shanghai and to see if he would arrange for us to meet. As he promised one year earlier, he contacted Hamashima. If you don't know of Mr. Hamashima's stature, I will provide an explanation. Currently, Bridgestone is the only company that supplies tires to vehicles in F-1 races-all teams are using Bridgestone tires. This was not necessarily the case early on, however. Mr. Hamashima, who has ultimate responsibility for Bridgestone in F-1, took the leadership to make improvement upon improvement until Bridgestone tires became synonymous with F-1. He also appears on television and is known around the world.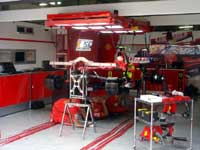 I met Mr. Hamashima on a practice day one day before the race. He showed us inside the Ferrari pit and we met many F-1 pilots. The winner of that race was Lewis Hamilton representing McLaren Mercedes with Felipe Massa driving for Ferrari in second place. The drivers ranking has Lewis Hamilton at the top with 94 points and Felipe Massa at 87. Even as the Shanghai Grand Prix came to a close, first place was still undecided so we will have to wait for the final race in Brazil.

F-1 Grand Prix started in 1950. But some of the team decided to that not enter this year's race because of this financial crisis. I hope F-1 Grand Prix will continue so that someday I have the opportunity to go and see F-1 at Monaco.
HOME > What's New > Today's Notables > Details