Today's Notables
Visit to Nano Dispersions Technology, Co.
July 2009
Hisashi Furuichi
President and C.E.O.
In April, I had an opportunity to visit the US so I decided to go see Dr. Gustavo Nunez, from Venezuela, with whom Primix had had relations with when Akira Furuichi was at the helm. Dr. Nunez had visited Japan in August of last year and at the time, I promised to visit his company. Although he is Venezuelan, his business is in the Republic of Panama. Panama is not so easy to get to so if you don't make the effort, you won't go. So I made it a mission to go in April.

There are parts of Primix's history that I don't know much about so Dr. Nunez filled me in on the history of his company. The company started a project called Orimulsion Project, which Dr. Nunez, whom I was visiting, is in charge of. Dr Nunez, was born and raised in Venezuela, graduated from Venezuela University, then attended the University of Minnesota to study mechanical engineering, eventually attaining a doctorate. After spending several years at a US company, he returned to Venezuela to work at a company involved in government-led energy projects. I have mentioned this project in previous versions of this series but for the benefit of new employees, I will provide some background.

Venezuela is home to abundant deposits of high-quality heavy oil that lie underground around the vicinity of the Orinoco river, called Orinoco tar. Dr. Nunez is one member of a team of people who are working to develop emulsions between the Orinoco tar and water to obtain fuel now being used as fuel for thermal energy plants. Somehow through this process, Primix came into contact with Dr. Nunez's company and we manufactured the emulsion equipment used for the Orimulsion and remained in contact with Dr. Nunez since then. Because of political instability in Venezuela, Dr. Nunez moved his project 2 years ago from Venezuela to the Republic of Panama, founding NDT, Co. or Nano-Dispersion Technology, Co.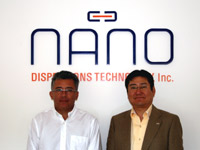 NDT is located about 20 minutes by car outside of Panama City where US military forces had once been. Panama is significantly influenced politically by Spain, Columbia and the US, but through a series of twists and turns it claimed independence and finally become sovereign over the land as recently as 1999. After gaining independence and with the US military leaving bases open, the Panama government decided to convert the area into "The City of Knowledge" that acts as an incubator region to encourage the development of joint ventures and start up enterprises. Since it falls under government support, oversight is quite strict and as a result, the companies that have been attracted to the region are at a fairly high level of operations. As the name suggests, NDT is involved in research and development of nano-sized particles and has been recognized by the government as a potential leader with prospects for the future. Therefore, NDT was able to join other companies in the City of Knowledge. This visit gave me the opportunity to see how Primix is fulfilling our mission of contributing to technological innovation in a variety of industries with mixing technology, and I agreed with Dr. Nunez that it was important to further our relationship and share information with NDT, one of the "brains" in their particular area of expertise.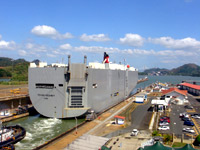 Usually when you hear of Panama, the Panama Canal is what comes to mind. The Canal is within walking distance of Dr. Nunez's office so he took us to see one of the three locks in total. The Panama Canal was designed by the same French engineer who designed the Suez Canal, Ferdinand de Lesseps, who initiated construction in 1880 under French authority. However, an outbreak of malaria and technological challenges hampered their efforts along with running out of funding, so in 1889, construction stopped. However, with the help of a treaty between the US and Panama, construction resumed in 1903 and the canal was completed 11 years later in 1914. Over its 95-year history, the Canal has been used by more than 10,000 freighters, tankers and ships annually and generates about 25 billion yen. In 2007, new construction began to add to the Canal and continues today, with completion slated in 2014. The Canal spans an area of 80 km and we were lucky to have the opportunity to see several large tankers loaded with vehicles pass through the Canal from the Pacific Ocean to the Caribbean Sea and vice versa.
HOME > What's New > Today's Notables > Details