Today's Notables
Shanghai Expo
July 2010
Hisashi Furuichi
President and C.E.O.
Following in my father's footsteps, I joined the Kansai Chuken Kigyou no Kai (Association of Kansai Corporations). I received an invitation for a spring visit with the organization to go to the Shanghai Expo, and decided to register right away. The visit was scheduled for May 15 to May 17 for three days but since I also wanted to visit PRIMIX Shanghai, I decided to participate for two days of the trip and then go to the PRIMIX Shanghai plant on Monday. I was in junior high school when the Osaka Expo was held and I remember how much fun it was. I also went to the Aichi Expo in 2005 so I will speak in reference to this Expo since it is more recent in my memory and young people also know of it.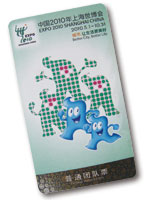 First, the area of the paid entry portion of Shanghai Expo was 328 hectares or about 1.9 times the size of Aichi Expo. Tokyo Disneyland and Disneysea together make up about 100 hectares so you have an idea of sheer size at 3.2 times larger than Disney in Tokyo. There were 242 countries and international institutions officially represented which is 1.9 times that of Aichi Expo-again obviously much larger. The standard entry fee on sale during the Expo was 160 wan, or about 2,200 yen. To give you an idea of this fee relative to consumer prices, the average new hire at Shanghai PRIMIX makes about 1,500 wan per month, or about a tenth of monthly salary. PRIMIX Shanghai is located significantly outside of central Shanghai but the cost of living is still quite a bit higher than other outlying regions. So for the average Chinese person, the entry fee is quite steep. However, citizens of Shanghai got one free ticket plus transportation cost to the Expo per household, while some companies provided passes for employees to go. We decided to get on board at PRIMIX Shanghai as well, and gave tickets to all employees as a gesture of goodwill. The word for "Expo" in Japanese is banpaku but uses different characters than the Chinese, which is read sheboa. The route from Shanghai airport to downtown Shanghai is flush with signs and advertising, showing the mascot "Shanghai jewel" called haibao with the Chinese characters for shiboa.

Since PRIMIX Shanghai was established in 2004, I have been visiting two or three times per year, and even during that time, I have noticed that the rush of construction to keep up with economic growth seemed to cause the city to change right before my eyes between visits. In particular, when I visited in December of last year, roads and subways were under construction everywhere which combined to make Shanghai a dusty, noisy, crowded place but this time, all of that was gone-the dust had settled, and the horn-honking had quieted to Manhattan levels. I asked a local about this and apparently all construction had been banned during the Expo. Construction on the interior of buildings was acceptable but not the exterior. A law prohibiting horn-honking was also put into place so you could be fined for excessive honking. Furthermore, the fluttering of hanging of laundry from the windows of tall mansions was also conspicuously absent, giving the city a much different atmosphere. I wonder if the efforts to clean up the city will remain after the Expo.

The twenty people in the group including guides enjoyed VIP treatment because JETRO was aware of the activities of the organization and the purpose of the visit, and made special arrangements. We did not have to wait and were able to make the most use of our time in visiting the Expo. We visited the China, Japan, Japan Industry and Osaka Halls because we were limited in time and wanted to fully take in the displays. Perhaps it was because I saw the Osaka Expo through the young, inquisitive eyes of a junior high student, or because lifestyle of the times were not as modern, but I remember thinking how neat and interesting everything was. This time, however, to be honest, I did not have the same level of excitement nor did I see anything that really caught my eye as interesting or especially novel. Maybe it is perhaps that most Japanese take high technology for granted and do not find it so surprising-I certainly don't think it is because I am no longer that starry eyed kid. My eye was more drawn to the sloppiness of the work, the poor paint job, and the shoddy workmanship in placing a sign up. To make matters worse, the aisles were strewn with garbage, giving a rather disgusting overall impression.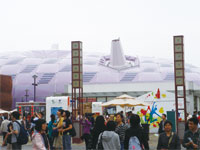 I was, however, interested in a theme that many companies seem to be addressing-the environment and ecology. The Japan Building had a device on display that used a yard sprinkler concept and air layers to cool air for air-conditioning using very low energy even in the hottest part of summer. The device has been proven in the field using water from rain. Many other displays showed ways to reduce our carbon footprint and live without fossil fuels, suggesting that we have indeed approached a new era with different priorities. Structures developed by Taiyo Kogyou, an Osaka-based company that has a world class reputation as a tent manufacturer, housed the Japan exhibit as well as various other exhibits around the Expo. The technology was quite impressive. The tent on the main street of the Expo was 97m wide, 840m long, and had a 38m high membrane for a total of 65,000 square meters of membrane for the roof of the structure.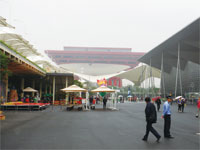 Three days after the Expo began, attendance per day dropped to 100,000 people on from 200,000 people, which is supposedly the maximum number of entrants. However, the day before we were there, the attendance was 330,000 people and 230,000 the day we attended. Of course, China will undoubtedly have the largest Expo and will surely surpass the Osaka Expo, which had a total of 64,210,000 at the most. But given the success of China in the Olympics and the Expo, I hope Japanese (especially politicians) have a little more awareness of the tremendous growth in China's GDP and show a little more concern regarding the economic power China has gained.
HOME > What's New > Today's Notables > Details