Today's Notables
Xian Trip, Part 1
October 2010
Hisashi Furuichi
President and C.E.O.
Every year, it has become a tradition to take a food tour over the Marine Day holiday weekend. This year, I went to Xian, China. From Narita, I arrived in Shanghai, then to Puton Airport, and from Puton, a domestic airline takes you to Xian. We had to walk to the new terminal in Puton Airport built in March of 2008, from the terminal we arrived. However, after boarding and sitting in the plane for a while, I began to notice that there was no evidence that the plane would be taking off anytime soon. Over the PA, a flight attendant said in very broken English that the plane was to be delayed. A flight attendant started handing our beverages and lunch boxes, so I asked what the problem was, to which she just responded that the runway was crowded and we had to wait in order for takeoff. We waited, and waited and finally three hours later, the plane finally took off. Our scheduled arrival was 4pm but we actually arrived sometime after 7pm, completely screwing up our plans. The driver that I had arranged through the travel agent and who met us at the airport in Xian, didn't seem at all surprised by our lateness and in fact, he said, "that's nothing new." Thus ended a very long day getting to Xian. In China, only 20 or so percent of air traffic routes is allotted for use by private citizens, so the planes flying out of Shanghai are generally over-loaded, creating a high traffic situation. This preferential treatment of giving the military priority use of air traffic space over the needs of private citizens, for me was a face-to-face encounter with one of the fundamental differences in national character from Japan. Because we were so late, the restaurant we had reserved was of course out of the question, and with one fell swoop, one day of vacation was gone.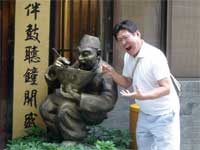 At one time Xian was called Chang'an, but when it was established as a city in 1928, the name was changed to Xian. Xian has also been called Xijing, Daxing, Chang'an, Jingzhao, and Fengyuan, and flourished historically as a political center. From Western Zhou Dynasty to Qin Dynasty, from Han Dynasty to Sui Dynasty, and then the capital of Tang Dynasty, the city has a rich political history dating back thousands of years over many dynasties with the buildings as a testimony to its heritage. Despite this strong historical influence, modernity is present everywhere. In the center of the city, there are no telephone poles and doesn't have the chaotic atmosphere of Shanghai. It's clean and more relaxed compared to Shanghai.

The second day, we visited the famed Xian Terracotta Army. The Chinese characters literally mean "soldier and horse funerary statues." In ancient times in China, when people died and were buried, these funerary artifacts were buried with them. This tomb we visited was the burial site of the first emperor of the Qin Dynasty. The Terracotta Army was discovered in 1974 by a group of farmers who were digging for wells in this region that had been supposedly plagued by evil spirits that caused drought. The legend is that the owner of that farm suddenly came face to face with the evil spirit and discovered the Terracotta Army. The actual person who made discovery is currently the honorary vice-director of the museum. In 1987, part of the Qin Mausoleum is now registered as a World Heritage (Cultural criteria). Although you probably have seen the Terracotta Army in pictures and on television, it does not do the real thing justice in the pure size, scale and number of figures. The face of each warrior and horse are carved individually, and each has a different expression. I was thoroughly impressed by the magnitude such a project must have been. Although not completely unburied, given the size of 20,000 sq. m and 3 pits, it is estimated that there are more than 100 or more war chariots, 600 horses and over 8,000 adult size warrior figures. It is estimated that it took 38 years to construct the terracotta army figures during the Qin Dynasty (778 and 206 before Christ) so over 2000 years ago.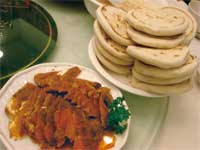 Now back to the subject at hand after getting sidetracked on historical relics. Chinese food is generally divided in regions East/West and North/South. East is sour, West is spicy, North is salty and South is plain. The Shaanxi Province, where Xian is located, is probably most influenced by Sichuan, which is on the spicy side. The north is more oriented toward wheat products while the south is oriented toward rice. The typical Xian diet contains a lot of wheat with an emphasis on noodles and steam buns that provide the mainstay with very little rice. Up to now, I thought the difference between the influence of rice vs. wheat was a question of climate, but found out that it is the presence of water that makes this distinction. To bring water to the Shaanxi province, an irrigation system was needed to bring water from inland rivers in the southern area because of the lack of water. This is one reason for the lack of rice in the diet. Also, the terminus of the Silk Road in Shaanxi was strongly influenced by Islam. For that reason, Muslims are numerous in that area, which explains the prevalence of mutton in the local diet.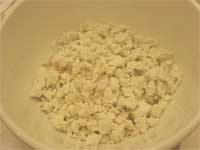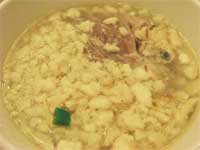 One famous dishes served in Xian is called "yanropaomo," or unleavened, flat bread in a soup of rich mutton meat. Before you eat the dish, you first have to tear up the bread into small pieces and put into an empty donburi-type bowl. I was not used to having to work so hard to eat a meal, and wondered if there was a better way, but decided that it must be part of the enjoyment of eating it. After tearing the bread up and putting it into a bowl, the server puts the dish on a tray that has your mark on it and takes it to the kitchen to add the mutton soup. Although I have never been very fond of mutton because to me, there is not much flavor, it seems to be very popular among the local folks, and I was glad to try it.
HOME > What's New > Today's Notables > Details