Today's Notables
Europe Travel Log, Part 2
September 2013
Hisashi Furuichi
President and C.E.O.
Hamajima-san was introduced to me by Yusa-san back when the Shanghai F1 Grand Prix was being held in October. Yusa-san contacted Hamajima-san when we went to see the race, and Hamajima-san made arrangements for us to go into the racing pit, for which I am very grateful. In the past when F1 racing was commercially broadcasted, Hamajima-san was the commentator who appeared on almost every program to explain the road and tire conditions on behalf of Bridgestone. With Bridgestone having withdrawn from F1 racing, Hamajima-san had changed jobs and begun working at Ferrari in January of last year. He had even sent me an email upon his move to Italy.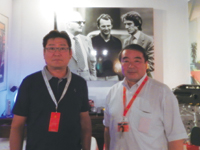 The story shifts a little, but I remember a time when my mother scolded me for shouting in a movie theater. I must have been completely drawn into the movie. When I was a child, I had come to love cars from the many miniature cars my father brought back to me on each one of his business trips. In the 2nd or 3rd grade, I went to see a movie called Grand Prix where Yves Montand drove a Ferrari formula car. This happened to be the same Ferrari as my most precious miniature Ferrari, and it was on the brink of losing to the "Murata" branded with the Japanese red sun and lead by Toshiro Mifune (clearly a parody of Honda). Without thought, I had shouted "COME ON FERRARI!" while the movie was playing.
Recently, I found out that "there is no movie they don't have" at the TSUTAYA flagship store and bookstore in Daikanyama. I found and rented Grand Prix to find that the movie was exactly as I had remembered it from more than 45 years ago. I was utterly surprised. Since then, the Ferrari that defeated the Murata had found a special place in my heart. At the headquarters of this Ferrari is, as you know, Hamajima-san, and ever since he had changed his job I had been hoping to somehow pay a visit while he was still there. Now that chance had come.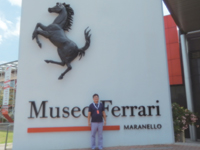 We made a reservation to take the Ferrari factory tour ahead of time, so when we gave our names at the reception next to the entrance at the Ferrari headquarters, the tour guide greeted us with a bright smile as if to say we were expecting you. We were to assemble five minutes early. The factory tour started with an explanation of the layout, and we received a detailed, courteous factory tour for roughly 2 hours and 40 minutes. There were so many things that left an impression on me that it's hard to decide where to begin, but everything was trés bien (very good). What left the strongest impression on me was that there were Ferrari's all over the area around Ferrari's headquarters. Everywhere I looked, there was a Ferrari. I felt like a kid in a candy store. There were Ferrari's being driven all over the place, and for good reason. Every single Ferrari produced is test driven on 50km of public roads and roads inside the plant to ensure that it is in perfect condition when it is shipped. In addition, Ferrari invites Ferrari owners from all European countries to come and see their headquarters, and there are private enterprises offering paid Ferrari test drives for fanatical tourists like myself. In any case, Ferrari's abound.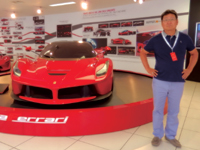 Ferrari has 3,000 employees and sells 6,000 Ferrari's per year, meaning that they are a car-maker that only produces 2 cars per person per year. Very recently, Ferrari made the news worldwide in their announcement to reduce the number of vehicles they manufacture. The president's statement was on the news, saying that if Ferrari increased production capability to satisfy the orders they receive, the scarcity value would decline and the value of Ferrari's would be reduced. This must be what is meant by a work of art crafted by the spirit of Italian artisans. They showed me their entire assembly process, and I was moved by the pursuit of perfection that can be seen in every operation and equipment.
I left Maranello, heart, pounding with excitement and new inspiration—if the brand strategy pursued at PRIMIX is mastered, there is a possibility that our company will become like Ferrari.
HOME > What's New > Today's Notables > Details