Today's Notables
My Observations of Vietnam and Cambodia, Part 1
May 2016
Hisashi Furuichi
President and C.E.O.
From February 21 to the 27th, I participated in an international exchange mission with the Kansai Association of Corporate Executives. The chairman of the international exchange committee, Tadahiko Koike, also the president and CEO of Koike Group, led the group of 10 people. We visited Vietnam (Ho Chi Minh City) and Cambodia (Phnom Phen). I had visited Ho Chi Minh City in February of 2009, almost 7 years ago, but it was my first visiting Cambodia, and was one of the motivating factors for me to participate in the mission. Every last minute of the daily schedule was planned out and although it was rather tiring, it was a very worthwhile, significant mission. The Chamber of Commerce and Industry, Japan International Cooperation Agency (JICA), Japan External Trade Organization (JETRO) and other such organizations have visited Ho Chi Minh City to hear about market trends and economic conditions, and were also able to observe the progress of construction started by ODA (Official Development Assistance).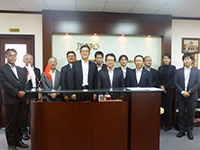 Compared to 7 years ago, my first impression of Ho Chin Minh City was that there were many more cars on the road where there had mostly been bikes. Most of those cars were taxis. According to statistics, there are 40,000,000 registered bikes, and with a population of 89,710,000, that means 44% percent of the population has bike. GDP has risen 6.68% over last year, and the average yearly salary is 29,300 yen, which is an 8% increase from last year. The median age is 29.2 years compared to Japan's age of 46.1 years. That means about 63% of the population is under the age of 30. By the year 2020, Japan's population is expected to decrease to 200 million while the population of Vietnam will grow to 8 million. It will not be long before Vietnam surpasses Japan. Vietnam is the only country in Indochina that traditionally uses chopsticks due to cultural influences from China. At some time in history, kanji were also used in Vietnamese language so Japanese culture is not totally foreign.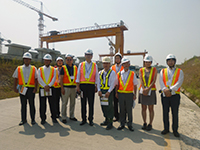 Vietnam is utilizing ODA funds from Japan (yen loan of approximate 240 billion) to build Vietnam's first subway in Ho Chi Minh City. The master plan of the subway calls for 6 lines, but only the first line is under construction, currently with technical assistance from Japan. Although it is being called a subway, only 2.2km of the total distance of 19.7 km is below ground. Sumitomo Trading is overseeing a collaboration by Hitachi Ltd., responsible for the systems; Shimizu Corporation, doing the excavation for the under ground portion; and Maeda Corporation to carry out the project. Land has been allocated in suburbs to expand from the first line of the subway, where the reinforcing structure patented by a French company will be assembled. Then concrete will be poured, and production will be done on a per unit basis, for the greatest efficiency of the work. The first station before the train goes underground is located adjacent to an opera house that is more than 100 years old. The consortium is taking every measure to leave the foundation of the historical buildings undisturbed as they construct the new subway. The tolerance that the contractors must work within is 2cm in order to leave the foundations undisturbed. I was impressed by constraints that the Japan construction companies can work within.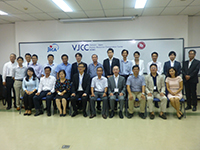 I was also quite impressed by the Vietnam Japan Human Resources Cooperation Center (VJCC), which hosts a management trainee exchange program. Until 20 years ago, the private sector was not allowed by law to operate businesses. Prior to then, only government-run enterprise, farming and small personal business were allowed. The current generation of business people is the first of its kind. No one has parents that worked at companies in the private sector. Although there are some C-level executives, there is a dearth of qualified human resources to draw on for middle level management work, and therefore, it's not unusual to see a 30-year-old person in an upper management position. One of the functions that VJCC is fulfilling is human resource development and training. Training for managers by VJCC involves a 10-month course, which includes some training in Japan. There is also a three-day business course for managers, as well as a course to learn introductory Japanese. The day we visited, there were 20 participants, and after some short introductions, we went to a restaurant and enjoyed a meal together. The management trainees were well informed about Japan and business matters in general so it was a very interesting discussion.
(Stay tuned next time for a report from Cambodia)
HOME > What's New > Today's Notables > Details