Thin-Film Spin System High-Speed Mixer

FILMIX Model 156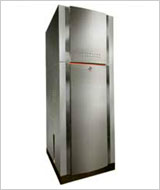 Filmix has shattered conventional wisdom in mixing, giving rise to totally new technologies.
The thin-film, spin methodology ensures sharp distribution of nanometer-sized particles that has been impossible with conventional mixers. High speed revolution of turbine causes materials to form a thin film along the walls of the vessel. Because the centrifugal force is greater than gravity, the material is mixed in a closed-in space where a significant energy can be applied to it.
Allows for a high level of precision in particle engineering. (Dispersion is created at the nanometer scale and results show very uniform distribution.)
Prevents secondary agglomeration.
Consistency in particle size without any damage to structure.
Dispersion is instantaneous.
Ideal for battery slurry and other such applications.
Applications
| | |
| --- | --- |
| Batteries | Lithium ion batteries, electric double layer capacitor, fuel cell electrode, battery material (inorganic particulate material, organic pigment) |
| Chemicals | Dispersion of whiskers, magnetic and fluorescent paints, microcapsule inks, food additives |
| Pharmaceuticals | DDS and liposome |
| Cosmetics | Milky lotions, creams, lotions |
Laboratory
Industries
Systems Engineering
HOME > Products Information > Industries: Multi-purpose, Versatile Disperser / Kneader > FILMIX Model 156