High-Speed Emulsifier / Disperser

AUTO MIXER Model 20, Model 40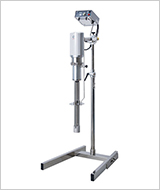 A feedback system allows for constant speed despite changes in viscosity and specific gravity of the material being processed, yielding accurate test data.
Mixing sections are interchangeable with Homogenizing Mixer Mark II and Homogenizing Disper (option) depending on the purpose of processing.
Forward and reverse direction allows for powder particles to be emulsified and dispersed evenly and uniformly.
Standard Specifications
Motor
Model 20 : 100V, 0.75kW, 500 - 9,000r/min
Model 40 : 200V, 1.5kW, 500 - 8,000r/min
Mixing Head
HOMOGENIZING MIXER MARK II
Direction of Rotation
Switchable forward / reverse operation is possible
Working Capacity
Model 20 : 20L
Model 40 : 50L
Laboratory
Industries
Systems Engineering
HOME > Products Information > Laboratory: Emulsifier / Disperser > AUTO MIXER Model 20, 40