Ultra-High Speed Multi-Use Mixing System

LABOLUTION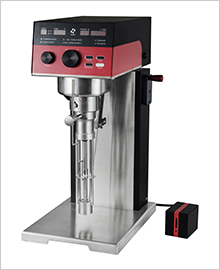 With a maximum speed of 22,000 r/min, the equipment can obtain results and data that have not been possible with conventional mixers.
Uses a feedback system that keeps speed constant despite variations in load.
Wide variety of mixing head options (very small batch, continuous and vacuum). Yields accurate data that allows for conversion to mass-production standards.
Auto data logging on SD card (r/min, output power, temperature) and thermo sensor are available.
Standard Specifications
Motor
100V, 0.75kW, 500 - 22,000r/min
Mixing Head
HOMOGENIZING MIXER MARK II Model 2.5
HOMOGENIZING DISPER Model 2.5
Direction of Rotation
Switchable forward / reverse operation is possible
Working Capacity
HOMOGENIZING MIXER MARK II Model 2.5 : 3L
HOMOGENIZING DISPER Model 2.5 : 5L
Options
HOMOGENIZING MIXER MARK II 2.5

HOMOGENIZING DISPER 2.5

NEO X SER

NEO MIXER

MINI MIXER

PIPELINE-HOMO MIXER

HOMOMIC LINE FLOW

Vacuum Type

Laboratory
Industries
Systems Engineering
HOME > Products Information > Laboratory: Emulsifier / Disperser > LABOLUTION