Ultra-High Speed Mixing System - A sterilized type to handle germ-free formulations

LABOLUTION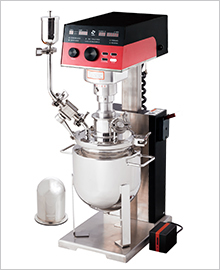 This unit can be used in a clean room (class 10 and over) thanks to our newly-developed brushless motor.
Fluctuation in speed due to sudden changes in load is eliminated through feedback system.
The new data logging function (for rpm, amperage and temperature) is available.
Standard Specifications
| | |
| --- | --- |
| Motor | 100V, 0.75kW, 500 - 22,000r/min |
| Mixing Head | HOMOGENIZING MIXER MARK II Model 2.5 |
| Construction Material | SUS316L, Buff #400, electropolish |
| Working Temperature | 80 (during vapor sterilization, it can withstand 121 degrees Celsius for 20 minutes.) |
| Direction of Rotation | Switchable forward / reverse operation is possible |
| Working Capacity | 2L |
Laboratory
Industries
Systems Engineering
HOME > Products Information > Laboratory: Emulsifier / Disperser > LABOLUTION