Batch-type, High-Speed Mixer

LEVIASTAR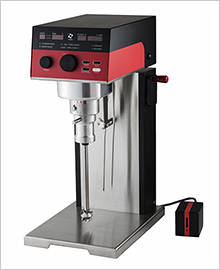 Makes dispersion and blending of highly viscous material possible.
The layered, S-shaped blades have a combined action that contributes to efficient fluid dynamics of the material and foam being processed.
The material is pulled up in the axial direction and discharged in the radial direction for superior mixing performance and overall uniform results.
The mixing action is especially effective in thoroughly blending material that rises to the surface or precipitates to the bottom.
Standard Specifications
| | |
| --- | --- |
| Motor | 100V, 0.75kW, 500 - 22,000r/min ( Main body is Labolution) |
| Working Capacity | up to 5L |
Laboratory
Industries
Systems Engineering
HOME > Products Information > Laboratory: Emulsifier / Disperser > LEVIASTAR