Production Control System

HOMICON PRO-X for Windows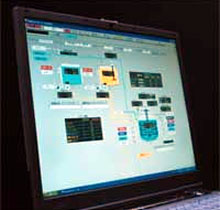 Production Control System
Automatic operations can be confirmed on "CR" at multiple locations.
Completed automatic operation parameters can be recorded and stored by the type of item on either a floppy disc or in a memory card.
Manual and automatic operational data can be printed out in chart or graph form.
Homicon Pro-X is software which controls the series of processes from the dissolving tank to the emulsifier. It can also operate each item of equipment independently and automatically, subsequent to the dissolving tank stage, thereby increasing the number of batches produced per day.
Scale-up Support System for Vacuum Emulsifying Equipment
Parameters set for test equipment can be recorded on a memory card, enabling rapid adaptation to full-scale production equipment.These two Vacuum Emulsifying Support Subsystems outlined above are best suited for batch production of a variety of pharmaceutical, cosmetics and/or chemical products.
MIXING PROCESS ENGINEERING
Using Systems Engineering to Satisfy Needs
By Integrating Tangible and Intangible Aspects for Excellence in Technology
Production environments are unique, but PRIMIX Corporation can provide the ideal mixing system to meet the needs by fully considering the complex relationship among all production factors. This is what we call "Systems Engineering". Delivering a highly reliable mixing system to a customer begins with consulting, moves to the design stage and finally, the equipment is manufactured according to customer needs. The end result is a system that specifically meets the needs of the customer. Adding a Homicon Pro-X computer system to a mixing device, allows for improved quality control.

Laboratory
Industries
Systems Engineering
HOME > Products Information > Systems Engineering: Production Control System - HOMICON PRO-X for Windows