System Engineering

Foods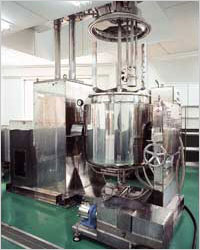 COMBI MIX with SINE PUMP
PRIMIX Corporation can meet your mixing needs through our comprehensive systems engineering services.
From mechanical engineering in cosmetics, food and chemical industries to GMP-based, energy-saving improvements of various types of equipment used in the pharmaceutical industry, PRIMIX Corporation can satisfy a wide variety of needs by utilizing our vast amount of accumulated knowledge and experience in the mixing industry.
Mayonnaise & dressing manufacturing equipment
Flour paste manufacturing equipment
Flavoring emulsifying equipment
Peanut butter manufacturing equipment
Dough kneading equipment
MIXING PROCESS ENGINEERING
Using Systems Engineering to Satisfy Needs
By Integrating Tangible and Intangible Aspects for Excellence in Technology
Production environments are unique, but PRIMIX Corporation can provide the ideal mixing system to meet the needs by fully considering the complex relationship among all production factors. This is what we call "Systems Engineering". Delivering a highly reliable mixing system to a customer begins with consulting, moves to the design stage and finally, the equipment is manufactured according to customer needs. The end result is a system that specifically meets the needs of the customer. Adding a Homicon Pro-X computer system to a mixing device, allows for improved quality control.

Laboratory
Industries
Systems Engineering
HOME > Products Information > Systems Engineering: Foods