News Releases
New Year Greetings
January 2017
Hisashi Furuichi
President and C.E.O.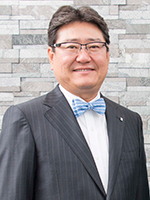 Happy New Year and thank you for all of your cooperation and assistance last year. I would like to express sincere appreciation to all of our stakeholders for your ongoing support last year. Without you, PRIMIX would not be where we are today. Thank you.

This year is the Year of the Rooster according to the Chinese Calendar, and also my birth year, making me 60 this year. For me, it signifies some deep emotional change. This year will also be our second New Year celebration at Awaji island. We enjoy and have grown accustomed to life on the Island. Looking back to last year, we ushered in our first year at Awaji island with many orders for electrode slurry manufacturing equipment for the Chinese market in the first half of the year, and in no time, the factory was buzzing with activity as we started the new year. In August, we were awarded the Kinki New Office Award by the Nikkei New Office Promotion Association. It will serve as a special commemoration to our new headquarters office. We've also had 2-3 groups per week tour our facility, and have bookings several months into the future.

This coming April will be the beginning of the last year of the current mid-term business plan, CHANGE, and with steady progress, we are on track to complete many important management initiatives. We look forward to your ongoing support in this year.
HOME > What's New > News Releases > Details