Vacuum Mixer / Emulsifier

AGI HOMO MIXER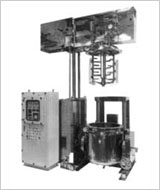 Combines two mixers, the Paddle Mixer and the Homogenizing Mixer, to perform fine emulsification, kneading and heat exchange of creams and ointments, quickly and easily.
The optional microcomputer, Homicon, provides full automatic batch process control and assures efficient smooth operation such as emulsification under vacuum and heat exchange.
The triple-shaft type can handle a wide variety of processing materials, and GMP standard-compliant units are also available.
Applications
| | |
| --- | --- |
| Pharmaceuticals | Ointments, creams, poultice, suppositories, syrups, injectant, barium sulfate |
| Cosmetics | Creams, milky lotion, shampoos, rinses, packs, foundations |
| Foods | Dressings, jams, creams, mayonnaise |
Laboratory
Industries
Systems Engineering
HOME > Products Information > Industries: Vacuum Mixer / Emulsifier > AGI HOMO MIXER