High-Speed Disperser

HOMOGENIZING DISPER Model 2.5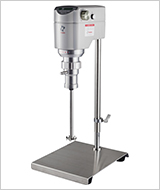 Suited for uniform dispersing and high-speed mixing.
Blades can be easily changed depending on the application.
The mixing section is easy to disassemble, making the unit easy to clean.
The newly-developed brushless motor is resistant to dust or dirt causing wear, and motor noise is kept to a minimum. The mixing speed is kept constant within the low rpm range.
Standard Specifications
| | |
| --- | --- |
| Motor | 100V, 0.25kW, 500 - 6,000r/min |
| Working Capacity | 5L |
Laboratory
Industries
Systems Engineering
HOME > Products Information > Laboratory: Emulsifier / Disperser >HOMOGENIZING DISPER Model 2.5